Global scenes
Significant updates will be presented in the upcoming EAO in Stockholm, Sweden.
THURSDAY, SEPTEMBER 25, 16:30 - USHIO – SYMPOSIUM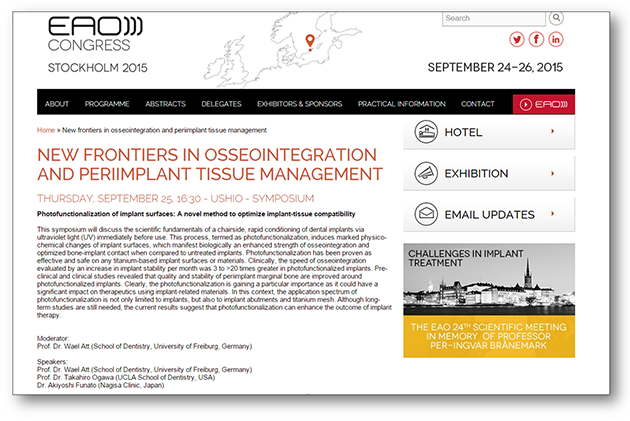 Photofunctionalization will be introduced during the invited keynote lecture during the upcoming Piezoelectric Surgery International Conference in Barcelona.
Friday, October 2, Barcelona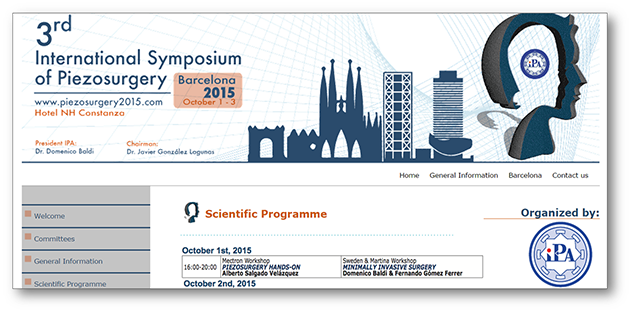 Photofunctionalization will be introduced for the first time in EAO after it has been CE-marked.
Do not miss Satellite Symposium unveiling the new era of soft and hard tissue management.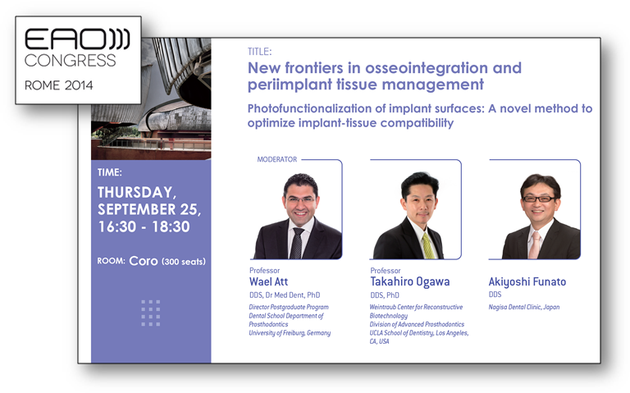 New Frontiers in osseointegration and periimplant tissue management
EAO in Rome, Thursday, Sep 25
16:30-18:30
Dr Teranishi presented his clinical case series in the Academy of Osseointegration Global Charter Chapter Meeting in London on July 4, 2014. "My treatment plans are based on the biological phenomena and clinical benefits of photofunctionalization. Photofunctionalization is a necessary tool in my practice."
The first photofunctionalization workshop was held in Munich, Germany on May 9, 2014. The workshop was organized and hosted by Dr. Peter Randelzhofer and fully attended.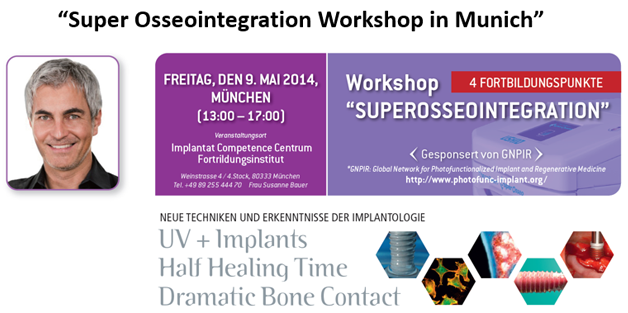 The Photofunctionalization Opinion Leader Meeting was held in Freiburg, Germany on Feb 28, 2014. The meeting was organized and hosted by Prof. Dr. Wael Att.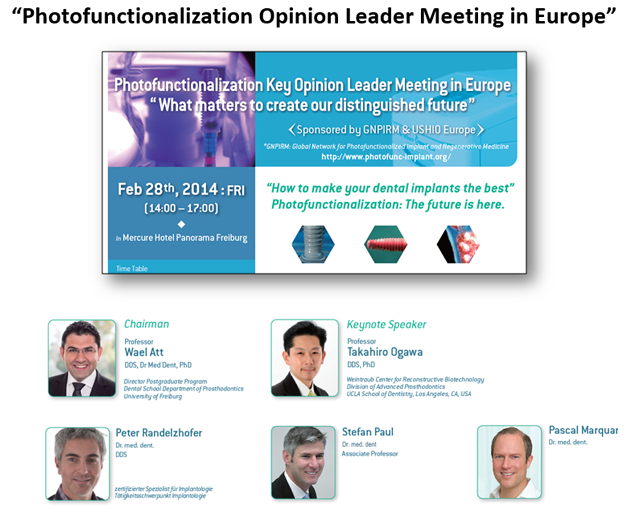 Congratulations! Dr Suzuki's paper received Ralph V. McKinney, Jr Award (Best Paper Award in Implant Dentistry) from ICOI.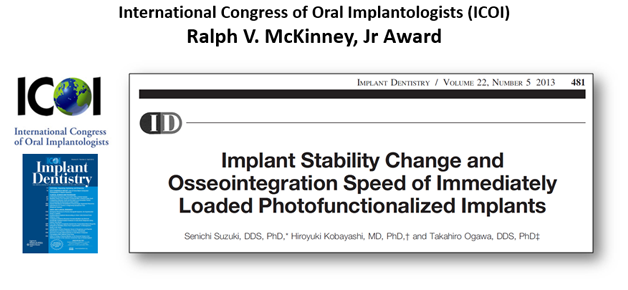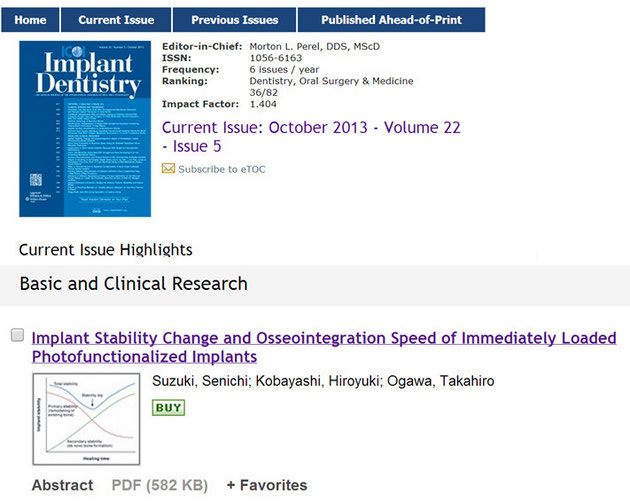 Photofunctionalization was introduced for the first time in Europe during ICOI World Conference in Istanbul on Oct 3 and EAO Meeting in Dublin on Oct 17.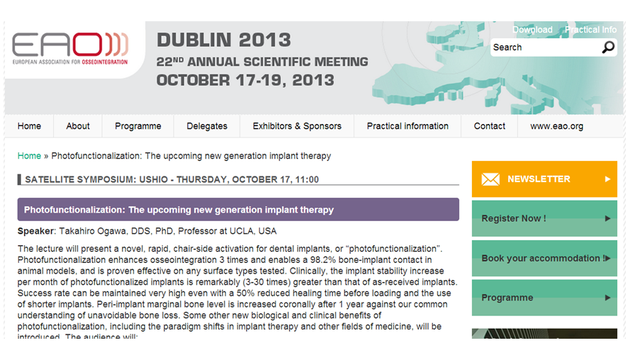 Establishing a new, universal standard in implant dentistry and exploring a new paradigm in regenerative medicine
The principle and theory of photofunctionalization and the biological aging of titanium have been described in the nation-level teaching syllabus in Germany, Switzerland, and Austria (Implantat-Werkstoffe, Curriculum Prothetik III).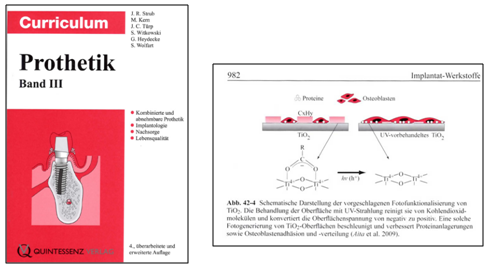 The biological aging of titanium and photofunctionalization as counter-measure were introduced in a global textbook in titanium science (Benign Photocatalysis - Applications of titanium oxide-based materials. Eds. Prashant Kamat and Masakazu Anpo. Springer US. Chapter 29 (699-713), 2010).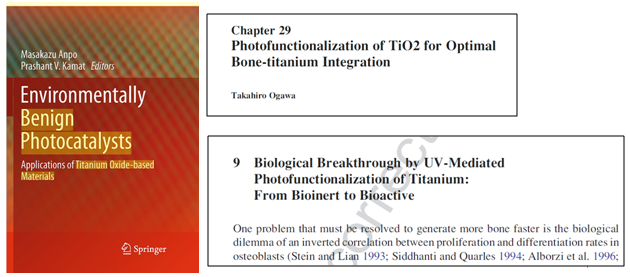 Research papers and projects on photofunctionalization received a number of awards from international and national scientific societies and conferences, such as Academy of Osseointegration William R. Raney Award.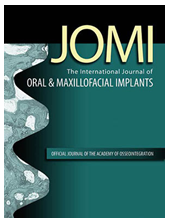 Ueno T, Yamada M, Hori N, Suzuki T, Ogawa T. UV photoactivation of titanium enhances osseointegration in a rat model.  Int J Oral Maxillofac Implants, 25:287-294, 2010
Photofunctionalization is featured in a technology magazine as breakthrough technology in the history of dental implants after 45 years.