Principle
Photofunctionalization– Scientifically driven technology
What is the photofunctionalization: the principle
Photofunctionalization is defined as the treatment of titanium with ultraviolet (UV) light having specific wave length and strength that induces the proven physicochemical and biological effects. 

Physicochemically, photofunctionalization converts titanium surfaces from hydrophobic to superhydrophilic, decomposes and removes hydrocarbons that are unavoidably accumulated on sufficiently aged titanium surfaces, and optimizes the electrostatic status.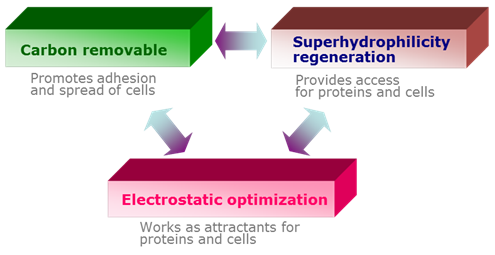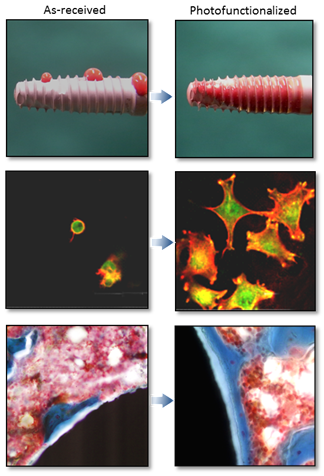 Biological effects are extensively reported in both in vitro and in vivo studies, which support each other reciprocally. The strength of in vivo osseointegration using photofunctionalized implants has been shown to be more than 3 times higher than that for untreated implants at the early healing stage in an animal model. The difference remains significant even in the late healing stage, indicating that photofunctionalization not only accelerates the process but also enhances the degree of osseointegration. A histomorphometric study revealed that BIC reached a near maximal level of 98.2% for photofunctionalized implants compared with 53% for untreated implants.
In vivo enhanced osseointegration is associated with remarkably increased recruitment, attachment, retention, spread, and proliferation of osteogenic cells on photofunctionalized surfaces. In vitro functional characteristics, such as alkaline phosphatase activity and the area of mineralized nodules, are also substantially increased.  These in vitro effects are evidently the results of the abovementioned physicochemical properties that are optimized by photofunctionalization.
The theory and principles of photofunctionalization can be found in the following review articles.

Ogawa T. UV-photofunctionalization of titanium implants. Oral & Craniofacial Tissue Engineering 2012;2:151-158.

Att W, Ogawa T. Biological aging of implant surfaces and their restoration with ultraviolet light treatment: a novel understanding of osseointegration. Int J Oral Maxillofac Implants 2012;27:753-761.